RCI Planning is the consultancy of Stephen Rowley, an experienced urban planner with extensive industry experience. His background includes:
More than fifteen years state and local government experience, gained at Moreland City Council, the City of Melbourne and the Mornington Peninsula Shire, and at the Planning Systems Reform area of the Department of Planning and Community Development.
Author of The Victorian Planning System: Practice, Problems and Prospects, an accessible guide to the system used in university planning courses.
Former Vice President and Policy Convenor of the Victorian division of the Planning Institute of Australia.
Current Planning Editor of the Victorian Planning Reports, the leading reporting service for decisions of the Victorian Civil and Administrative Tribunal.
Current lecturer at RMIT University, teaching statutory planning in undergraduate and postgraduate programs.
Former co-editor of the industry journal Planning News.
Regular commentator on Victorian planning issues, with his writing on planning issues having appeared in The Age, Crikey, Planning News, and on his own website.

Holder of a PhD from the University of Melbourne, in addition to a Bachelor of Planning & Design and Bachelor of Arts (Honours).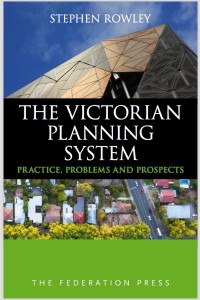 Stephen's second book, The Victorian Planning System: Practice, Problems and Prospects, has been published by Federation Press. It is aimed at both urban planners and users of the system and gives comprehensive coverage of how the system functions.
Stephen's first book, Movie Towns and Sitcom Suburbs: Building Hollywood's Ideal Communities, was published by Palgrave Macmillan in October 2015. (For more detail see here). In November 2016 it won the Cutting Edge Research and Teaching Award from the Planning Institute of Australia's Victorian Division.
A full resume is here, or alternatively Stephen's LinkedIn profile is here.
RCI Planning is on twitter as @rciplanning. For a more eclectic combination of planning, movies, football, and other interests, you can check out Stephen's personal account @sterow.